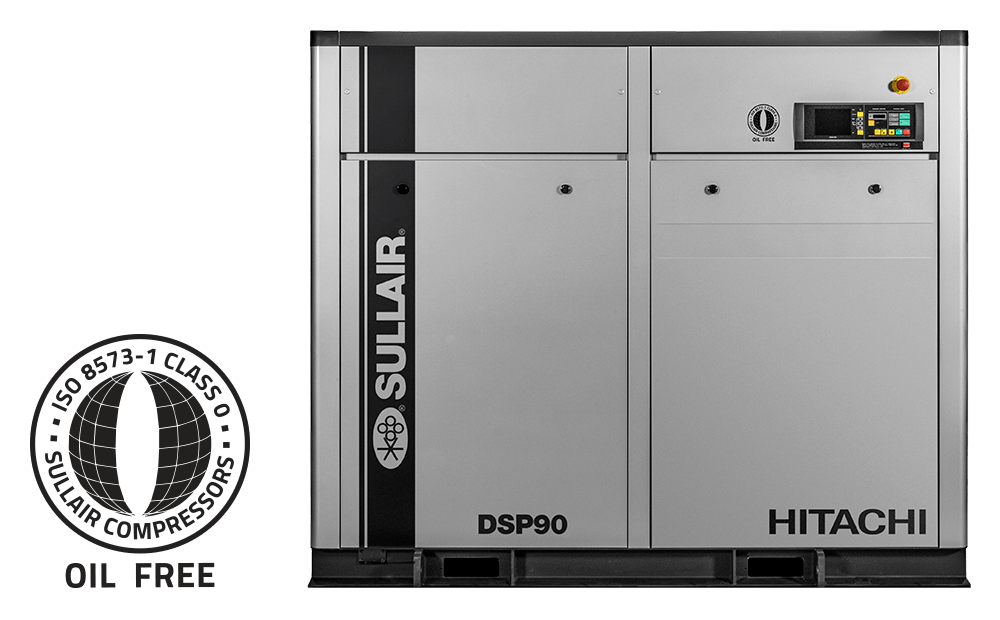 There's a simple answer to why industries of all types should be using oil free air compressors: No oil is introduced into the air or manufactured product!
While this simple answer is the endgame for many, the additional benefits to oil-free are often overlooked and undervalued in a transition investment situation.
In this article, we'll explore the business case for oil-free compressed air systems and detail the benefits that you and your company can experience.
First, let's start by looking at compressed air systems from another angle. How many of these can you relate to?
Your compressor room is dirty, with oil dripping on the floor, and there's oil dry sprinkled all over to absorb this expensive oil.

Oil is leaking from your current oil-flooded compressor, or messy oil and filters are strewn about from prior service.

Maybe you have buckets of oil stacked throughout the compressor room and aren't even sure which brand goes with which compressor.

Perhaps that oil leakage is making its way down the floor drain or being discharged unlawfully on the ground outside.

And finally, you're behind schedule on required routine maintenance due to supply chain delays on filters and other consumables.
If you can relate to these, then you should be considering an oil free compressed air solution for your operation.
UNDERSTANDING THE TYPES OF OIL-FREE COMPRESSORS
Identifying the different types of oil-free compressors will allow you to further develop your individual use case. There are four primary types to consider:
RECIPROCATING

Piston type – Generally, piston types are not only oil free but oil-less and designed more for smaller applications with intermittent usage requirements. These compressors are limited to small horsepower ranges and usually noisy. Reciprocating compressors may be commonly used in instrument air applications.

SCROLL

This type of technology is VERY quiet and limited in horsepower range. May be commonly used in medical and dental facilities, smaller brewery and distillery applications, and manufacturing inspection departments. Or as well as any area a small and quiet air compressor is needed.

ROTARY SCREW

This type of compressor is mostly used in industrial applications, due to the wide HP range and configurations. This technology is often available in air or water cooled, variable speed and fixed speed offerings. Typical installations are Food and Beverage, Packaging, medical manufacturing, and electronics.

CENTRIFUGAL

Most commonly this technology is designed for the large volume user that requires in the range of over 300 hp to many thousand HP. This is generally always water cooled, and best for Continuous load applications. Many centrifugal customers do not always require oil free air but use this technology due to the efficiency, smaller footprint, and cost of ownership in compressors of this size.
THE BENEFITS OF OIL-FREE AIR COMPRESSORS
If you were able to relate to any of the scenarios listed above, these benefits are for you. Leverage these in building your business case and investment strategy for transitioning to oil-free:
Contamination

No oil contamination occurs through droplets or vapor in the air stream, on the manufactured product, or in the manufacturing process from the air compressor.

Damage

No damage to downstream equipment from oil carryover, such as pneumatic controls or instrumentation.

Cleanliness

Cleaner compressor rooms from removing the need for messy oil changes, and leaky fittings and hoses.

Environmental Governance

Reduces Carbon Footprint, helping your business achieve your ESG goals, by reducing oil and other contaminants in the air.

Quieter

Most oil free air compressors have lower dBA ratings resulting in safer work environments.

Efficiency

Most oil free compressors require less amps to start, and quicker unload time due to not blowing down the sump. This benefit translates directly to your utility bill.

No Condensate Treatment

The oil free compressor does not pass oil, therefore the condensate discharged is free from oil. This eliminates the need for costly oil/water separator element changes and disposal costs. Elimination of this discharge also improves environmental contamination.

Lubricant Cost

Air compressor lubricants are expensive and require frequent oil changes, and sampling (often many more if using food grade lubricant). This lubricant, when changed, must also be disposed of according to local laws.

Low Annual Maintenance Costs

Due to normal preventative maintenance (PM) of rotary screw air compressors filters, separators, and oil must be changed frequently. Annual costs to maintain are generally in the thousands of dollars, depending on size and frequency. Oil free eliminates most of these consumable costs on an annual basis, along with the disposal and environmental concerns associated with the PM.

Lack of Downstream Filtration

Many applications require downstream or point of use filtration that needs to be changed regularly due to oil in the airstream. This often causes more pressure drop in the system resulting in inefficiencies.
COMMON APPLICATIONS THAT BENEFIT FROM OIL-FREE
Here are just a few industries that typically standardize on oil free air:
Aerospace
Blow Molding
Breweries / Distilleries
Chemical
Clean Rooms
Dental
Electronics
Food & Beverage
Laboratory Environment
Medical
Packaging
Pharmaceutical
Robotics
Textiles

-------------------
About the author: Dave Henning is Sales Manager for Compressed Air solutions at MCE. Dave began in the air compressor business in 1986 and has worked in distribution throughout his career. Dave is experienced in systems including water cooled reciprocating air compressors, centrifugal, as well as more common rotary screw, reciprocating, and scroll compressors. Dave is instrumental in the growth of Diversified Air Systems (DAS) in the marketplace with expertise in nitrogen generators, air being provided as a utility, and packaged remote compressor rooms. Dave's focus is on optimizing compressed air systems, providing efficient solutions for equipment and space.
Back to All News