Did you know? Undetected and untreated hydraulic connection leakage can increase costs by more than $2,000 per year.
In addition, hydraulic connection leakage can create hidden costs such as:
Energy loss
Safety hazards
Environmental responsibilities
Maintenance costs
Lost sales
Warranty
To minimize hydraulic leakage and its resulting costs, Parker created the Dry Technology methodology that identifies the major causes of leakage and provides tips to prevent them.
Below is a summary of the major causes of leakage and some tips to avoid them.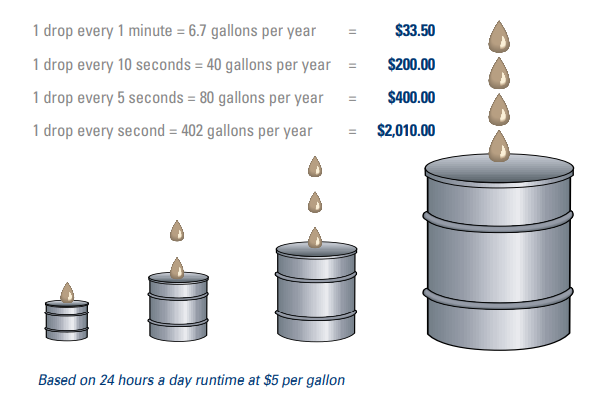 60% of all leakage comes from improper installation
Common installation problems include:
Over-tightening or under-tightening fittings.
Different thermal expression properties, temperature fluctuations cause intermittent leakage in tapered thread connections.
Removing too much material when deburring tube ends.
Forcing or "drawing in" tube assembly that is too short, long, or misaligned.
Improper routing of lines.
Removing protective plastic caps during installation (causes thread damage and contamination).
Dry Tech Tip: Most hydraulic leaks at initial startup are caused by joints that were not tightened properly and are now too buried for easy access.
20% of all leakage comes from poor system design
Selecting the right components to fit the application is a critical first phase in preventing leakage.
Applications that must be considered include:
Environment

Where is the system operating and how will that affect its performance?
Is it in an environment where it will experience excessive corrosive or mechanical abuse?

Pressure

What is the minimum + maximum pressure?
What is the number of times the pressure will cycle between those two pressure points?
Dry Tech Tip: Computer Software can greatly expedite otherwise labor-intensive calculations such as pressure drop.
Vibration

How severe is the vibration?
Will the vibration cause the components to loosen or prematurely fail?

Shock

Will the component be subjected to mechanical or hydraulic shocks that could be detrimental to its expected life?
Dry Tech Tip: Face seal O-rings should always be installed with an insertion tool to prevent them from twisting or popping out.
Contamination

Is the style and quality selected introducing contaminants into the system?

Fluid Velocities

Does the tube and fitting size allow for acceptable velocity?

Ambient & Fluid Temperature

What extreme temperatures will the machine be exposed to and how will they affect the material in the components?
Dry Tech Tip: While elastomer port sealing methods are typically preferred, they may have temperature limitations. For this reason, metallic port sealing may be preferred.
15% of all leakage comes from poor quality components
When determining which products will be best for your system's requirements, choose high quality components.
Fittings with elastomer seals are the most reliable but it is important to check temperature limitations.
A higher hardness forging is not necessarily better. Brittle failures can occur with harder materials.
Due to weight considerations, titanium tube is often required in aerospace/aircraft applications.
Thicker tubing is often used to create a more rugged system.
Adjustable straight threads are more reliable than pipe threads on shaped fittings.
5% of all leakage comes from system abuse
System abuse is often assumed to be a user-end issue that simply can't be stopped, but it can be controlled.
Follow these important steps before putting the asset into the end-user's hands:
Make available enough space (wrench clearances) to maintain equipment properly.
Provide key specialty tools (e.g., captive O-ring insertion tools) that the user would normally not have access.
Use maintenance manuals that provide not just OEM and manufacturer part numbers, but proper assembly techniques for servicing.
Utilize protective caps and plugs for threaded connections, and don't remove them until the final connection with the mating tube and hose assembly is made.
Include routing designed to reduce the possibility of the user standing or climbing on the plumbing.
Dry Tech Tip: A well-designed system is one that takes ease of maintenance into consideration along with proper function and ease of installation.
Finally, when selecting hydraulic connectors, it is important to understand:
How to select the proper fitting for your system using the S.T.A.M.P method
Tube/hose end selection
Port selection
Selecting hydraulic tube
Proper tube and fitting assembly
Bending, routing and clamping
How to troubleshoot typical connection leakage problems
To learn more, download the Parker Dry Technology Guide to Leak-Free Connections by clicking the button below.
To speak with an MCE expert or to request dry technology training for your facility, click the button below.
Back to All News